Blasket Island Ferries
Welcome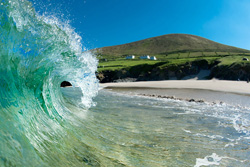 We are the longest established, and were for many years the only, ferry company operating to the island.

Relax and soak in the breathtaking views of the most westerly lands in Europe while listening to the calls of the huge number of breeding seabirds such as Puffins, Fulmars, Guillemots, Storm petrels and Shearwaters.

A truly magical trip with a glimpse of Dolphins, Whales, Orcas and Porpoises. Come and enjoy this remote and unspoilt beauty first hand and we promise you an experience never to be forgotten.


All vessels operated by Blasket Island Ferries are inspected annually by marine surveyors of the Irish Department of Marine.

We operate a twin engine passenger vessel from Dunquin Harbour to the Great Blasket Island. It is the largest carrier of people to the Island. Over the last twenty years more than 90% of passengers landing on the Island travelled with Blasket Island Ferries.


The twin engine 50 passenger vessel operating from Dunquin Harbour to the Great Blasket Island was purpose designed and built as an inshore Island ferry and boasts a comprehensive intergrated electronic navigation package (life rafts, life jackets, smoke life rings, engine room fire suppression system, echo sounder, electronic charts, distress safety system, global positioning system, emergency positioning beacon, etc).

The crew of each vessel have experience over many years and hold all relevant Masters and offshore safety certificates and in many cases hold certificates that far exceed the Department of Marine requirements.