Blasket Island Ferries
Hiking/Beach
Simply put there is an embarrassment of fine walking trails for all levels of hiker. For those wishing to go for a "wee stroll" there are well defined green roads that lead up the North side of and return on the South side of the Great Blasket Island or visa versa.

This path offers phenomenal views of the surrounding islands and takes approximately an hour and a half to complete at a leisurely pace. We recommend that this walking trail be experienced by everyone who visits the Great Blasket Island.

For the more experienced walker, the length of the Great Blasket Island can be done but sturdy walking boots,
a mobile phone and rain gear is a must. This hike offers seven miles (round trip) of green roads, mountain side and bog. As the back of the island is not frequented by many people there is a chance that you will see the elusive wild goats grazing on the sheer cliffs above the locar rocks.

For the less adventurous or for families, the Trá Bán (white strand) offers a warm and relaxed atmosphere.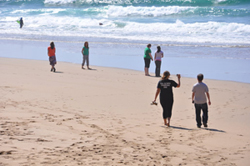 A mere 600m long the beach is sheltered from the predominant South Westerly winds and is an ideal area for relaxing.

The fine white sands and turquoise waters instill a feeling of exotic foreign climes and are in many ways reminiscent of the Caribbean or Indian Ocean, but are only a short boat trip away.

There are strong currents and tides around the "Traá Bán" so it is advisable to stay well inside your depth.